Our Work
Supporting First Nations communities and fragile ecosystems in the face of climate change.
As original stewards of our lands and waters, First Nations are uniquely positioned to lead efforts to protect, conserve, and sustainably manage the environment and its resources. The AFN has been participating in international climate negotiations for the past several years including the Conference of the Parties for the UN Framework Convention on Climate Change and the Conference of the Parties to the UN Convention on Biological Diversity. First Nations is leading the way toward realizing the Government of Canada's ambitious Nature Agenda of protecting 25% of lands and waters by 2025 and 30% by 2030 through the establishment of Indigenous Protected and Conserved Areas (IPCAs) and Guardian programs.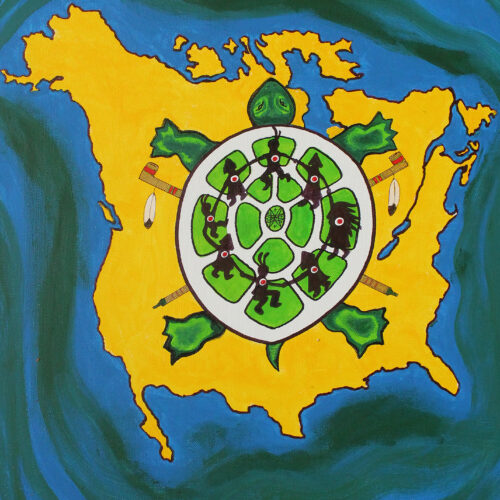 Alan Syliboy
Mi'kmaq – Millbrook First Nation, b. 1952
Turtle Island, 2022
Mi'kmaqs are the "Eastern Gatekeepers of Turtle Island Turtle Island refers to the continent of North America. We tell of a turtle that holds the whole world on its back.
Sign up for our Newsletter
Get the latest updates from the AFN in your inbox.
We'll never share your email with anyone else.
Reach out to the Assembly of First Nations
Assembly of First Nations

55 Metcalfe Street, Suite 1600

Ottawa, Ontario K1P 6L5
Map & Directions